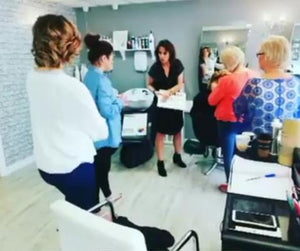 In-Salon Training
We provide free in-salon training on any of our product ranges including our popular Alter Ego Technofruit Colour, Blondego blonde range and My Color.
Please contact us via email enquiries@kreativesalonsupplies.com or phone 09066 27077 to let us know if you are interested in training for you and your staff.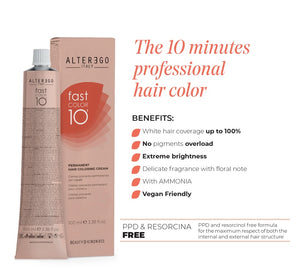 Permanent Colour in only 10 Minutes!
Now more than ever, time is so important to both the salon professional and the client. Time is a fundamental value for achieving a quick and effective professional result.
Fast Color 10 ' is Alter Ego Italy's answer to this pressing need. A professional and permanent color that works in just 10 minutes, guaranteeing 100% coverage of white hair.
18 Nuances and 5 chromatic series: NATURAL, BROWN, GOLDEN, COPPER and RED, to intensify the tones, play with shades, enhance the brilliance or light up the colors with vibrant reflections.
The formulation of Fast Color 10 'is enriched with latest generation carrier substances capable of accelerating the penetration of the pigment inside the hair, guaranteeing absolute fidelity to the result and a uniform result. Mallow extract, with antioxidant properties, restructures and regenerates the fiber, bringing shine, while Orchid extract invigorates and softens the hair.
In line with the sustainability choices that distinguish us, Fast Color 10 'packaging is kind , made up of recycled aluminum tubes, caps produced with the least possible use of plastic and boxes made of compostable FSC certified paper.
26 Permanent color in 10 minutes
100% gray hair coverage Intensification of color tones
No pigment overload
Extreme brightness
Delicate fragrance with floral notes
With ammonia
Vegan Friendly
Eco-sustainable pack
Without PPD and Resorcin